Services
Related Links NB Command | Prov. Command | RCL Site | Veteran Affairs | Collections Canada | Medal Services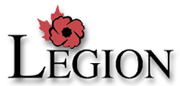 Services
Your Legion has many different services available to assist you. There is a foot care clinic, meals to seniors, bi-monthly blood donor clinics, and a volunteer income tax clinic for low-income individuals and students, run during the month of March. The Legion also offers its hall, for benefits, and community fund-raisers.
Banquet Facilities
Sussex Branch # 20 has a hall / banquet facilities that can accommodate up to 300 people. So whether you are having a wedding, class reunion, Christmas party or a business meeting, we would be more than pleased to help you out.
If you feel our banquet room is to large for your needs, we also have a smaller room that can easily hold up to 60 people.
There is also bar service available at your request.
We have an excellent kitchen staff that are capable of cooking up your favourite dishes.
Some of our standards are;
Roast Beef........................$18.95/person
Roast Turkey......................$19.95/person plus taxes and clean-up.
Breast of Chicken with Cheese Sauce.....$18.95/person
All meals include, choice of juice, rolls, potatoes, vegetables, tea and coffee, and choice of dessert, served by our wonderful volunteers.
If one of these items are not suitable our cook is open to suggestions and I know we can come up with something that would be right for your function.
We are not limited to just these choices, give the Legion a call at 432-6699, and discuss your catering needs.
Having a dance or meeting after your meal, the service includes 3 hours of hall rental. There is a charge of $100.00. Maybe just thinking of having a dance for a special occasion, check out our reasonable rental rate of $200.00 (for four hours or less), or $300.00 (for over four hours) , plus taxes and SOCAN.
SOCAN is the Society of Composers, Authors and Music Publishers of Canada.
---
Related Links NB Command | Prov. Command | RCL Site | Veteran Affairs | Collections Canada | Medal Services