Home
About Us
News
Events Calendar
Executive Members
Volunteers
Services
Poppy Campaign
Photo Album
Forms
Contact Us
<![if !vml]><![endif]>Sussex Legion - Branch #20
66 Magnolia Avenue
WEEKLY EVENTS
TUESDAY - SINGLES POOL 6:30PM
THURSDAY - CRIB (DOUBLES) LEAGUE 7:30PM
THURSDAY - POOL LEAGUE - 6:30PM
FRIDAY - CHASE THE ACE - 5PM - 7PM (ticket sales) DRAW 7:15PM
SATURDAY - SHUFFLEBOARD - 10AM
Purchase tickets at StarLite, Pleasant Valley Convenience, Mobil Gas bar (Superstore), Jones General Store, Needs Fast Fuel, Millstream Irving, Penobsquis Corner Gas, and the Sussex Legion. Etransfer available for that weeks draw until midnight Wednesday, ctasussex20@icloud.com. Must start a conversation in facebook messenger to Sussex Legion Branch 20, in the memo on the etransfer you must include your phone number.
Tickets purchased on Friday for that nights draw has to be purchased at the Legion,
tickets can be purchased until 7pm.
Legion 50/50 draw on Wednesdays
Tickets has to be purchased by Tuesday for that weeks draw.
Legion 50/50 - Open to the public, weekly draw
Registration $3.00, $2.00 a week, for weeks played.
Purchase tickets at:
Superstore - Sussex
Toni's Corner Grocery - Sussex Corner
Needs Convenience - Sussex by Tim Horton's
Star Lite Video - Sussex
Tickets can be purchased at the Legion.
Hall Rentals and Banquet Information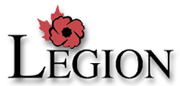 Our Executive, our Members, Ladies Auxiliary, and our Volunteers would like to welcome you to our site. We hope you will take the time to learn more about us. Our Traditions, Comradeship, Remembrance, and Service to others.
The Royal Canadian Legion
Our Mission Is To Serve:
Veterans

Ex-service Personnel

Their Dependants

The Community

And Canada
---
Purposes & Objects
To promote unity among all who have served

to further among them the spirit of comradeship and mutual help;

to pass on to their families and descendants the traditions for which they stand;

to perpetuate the memory and deeds of the fallen;

to promote and care for memorials to their valour and sacrifice, to provide
suitable burial, to keep an annual memorial day and to preserve the records and
memories in perpetuity;

to educate public opinion regarding national duties to the dead, the disabled and
others who have served, and their dependants;

to strive for peace, goodwill and friendship among all nations.
---
Related Links NB Command | Prov. Command | RCL Site | Veteran Affairs | Collections Canada | Medal Services | Mesothelioma Center